Cage Free Boarding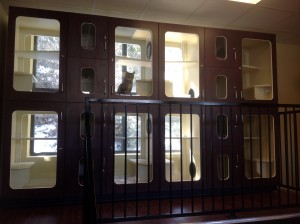 We have a number of boarding experiences to choose from, including garden views of bird feeders and wildlife, and watching hit mewvies such as Backyard Buffet and While You Were Gone.
For those space-loving cats or feline families, there is the option of occupying several cubbies with portholes that allow access either horizontally or vertically and we also have the spacious City View Suite.
Each CatNip Cubby has its own en-suite bathroom, partitioned from the living area to keep litter from getting into food and water bowls, and with darkened glass for privacy.

Being separated from your pet can be a stressful event. To ease the anxiety of time spent apart, we are hoping to offer webcams in the very near future for you to observe your kitty, no matter where you are. Until then, we try to post pics or short videos of our guests on our Facebook page or email them to their kitty parents. You may also message us on our Facebook page for updates.

All of our kitty guests are fed twice daily and are provided with soft, warm bedding, cat nip and scratching posts. Feel free to bring along your cat's favorite bed, blanket, toys and food and we'll make sure he or she feels right at home.

We also offer daily one-on-one play time with a staff member to give your pet an enriching experience and complimentary pedicures (if kitty allows) prior to check-out.

Stop by for a tour today and be sure to check out our Boarding Policies and Forms page for important

information

and rates. Ask us how your cat can earn a free night at The Mews Inn and Spa.
**Please see our Boarding Policies page for important information regarding admission requirements.**